Floyd Mayweather Jnr earned millions for his two-minute demolition job on Japanese kickboxer Tenshin Nasukawa on New Year's Eve but the US boxing superstar didn't earn pundits from his great rival Manny Pacquiao nor many who watched the farce unfold in Japan.
While the undefeated 41-year-old treated the main event of Rizin 14 at the Saitama Super Arena in Japan like a sparring session, knocking down his 20-year-old opponent three times on his way to a brutal first-round TKO, the Filipino icon wasn't impressed.
Pacquiao, who will fight American Adrien Broner on January 19 in Las Vegas for the WBA welterweight title, put Mayweather in the shade with a snarky Tweet, suggesting the fight wasn't fair from the start.
"Here is an early New Year's resolution. To continue to only fight experienced opponents who are my size or bigger," said recently turned 40-year-old Pacquiao in his Tweet.
Pacquiao (60-7-2, 39 KOs) was probably suggesting that Mayweather fought a much smaller man in the ring with Mayweather outweighing his opponent – known as a kickboxer and not a boxer – by at least 20 pounds. Pacquiao was beaten by the former five-weight champion and now "retired" Mayweather in their mega fight in 2015.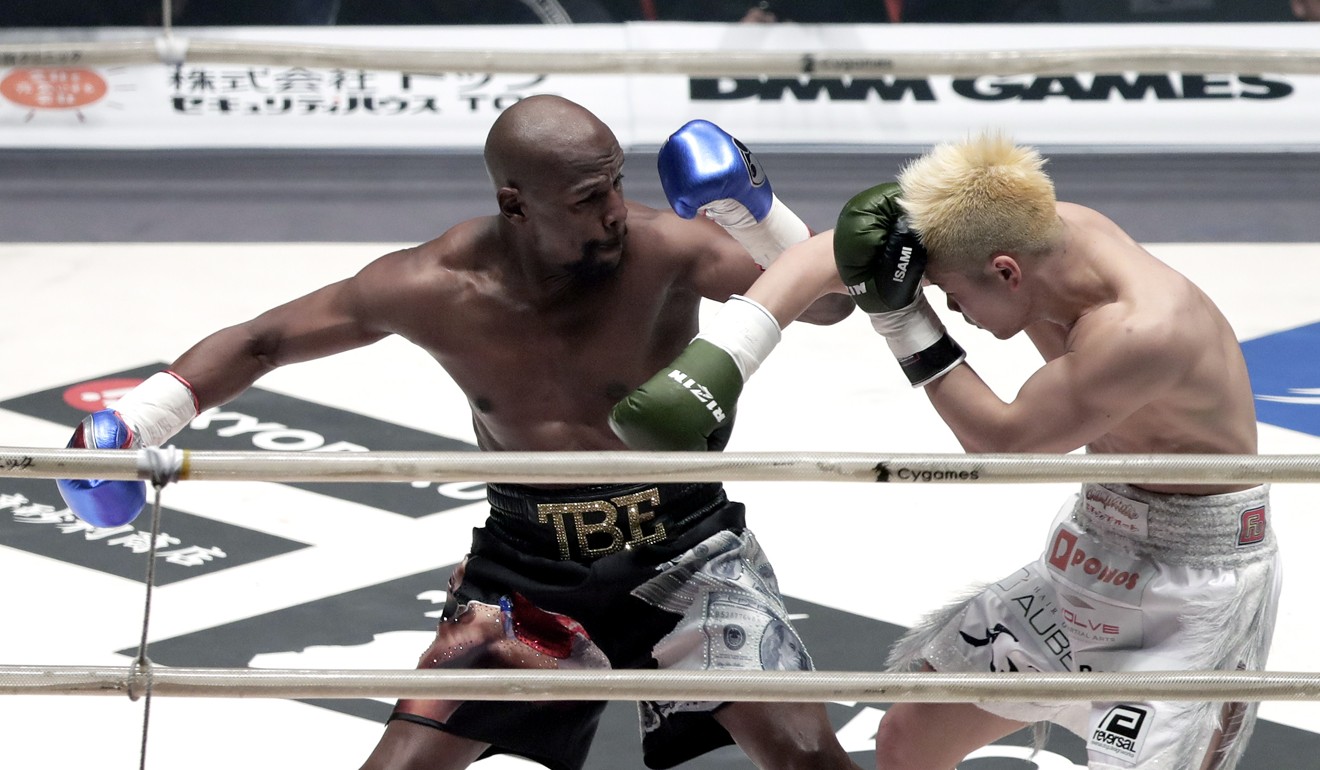 Floyd Mayweather Jnr on his way to an easy victory over Japanese kickboxer Tenshin Nasukawa. Photo: EPA
Nasukawa normally competes at 122 pounds, while Mayweather, a welterweight, probably came in between 147 to 150 pounds. Coupled with his many years of boxing ring experience, the undefeated American (50-0-0, 27 KOs) proved no match for Nasukawa, whose camp threw in the towel just two minutes and 20 seconds into the fight.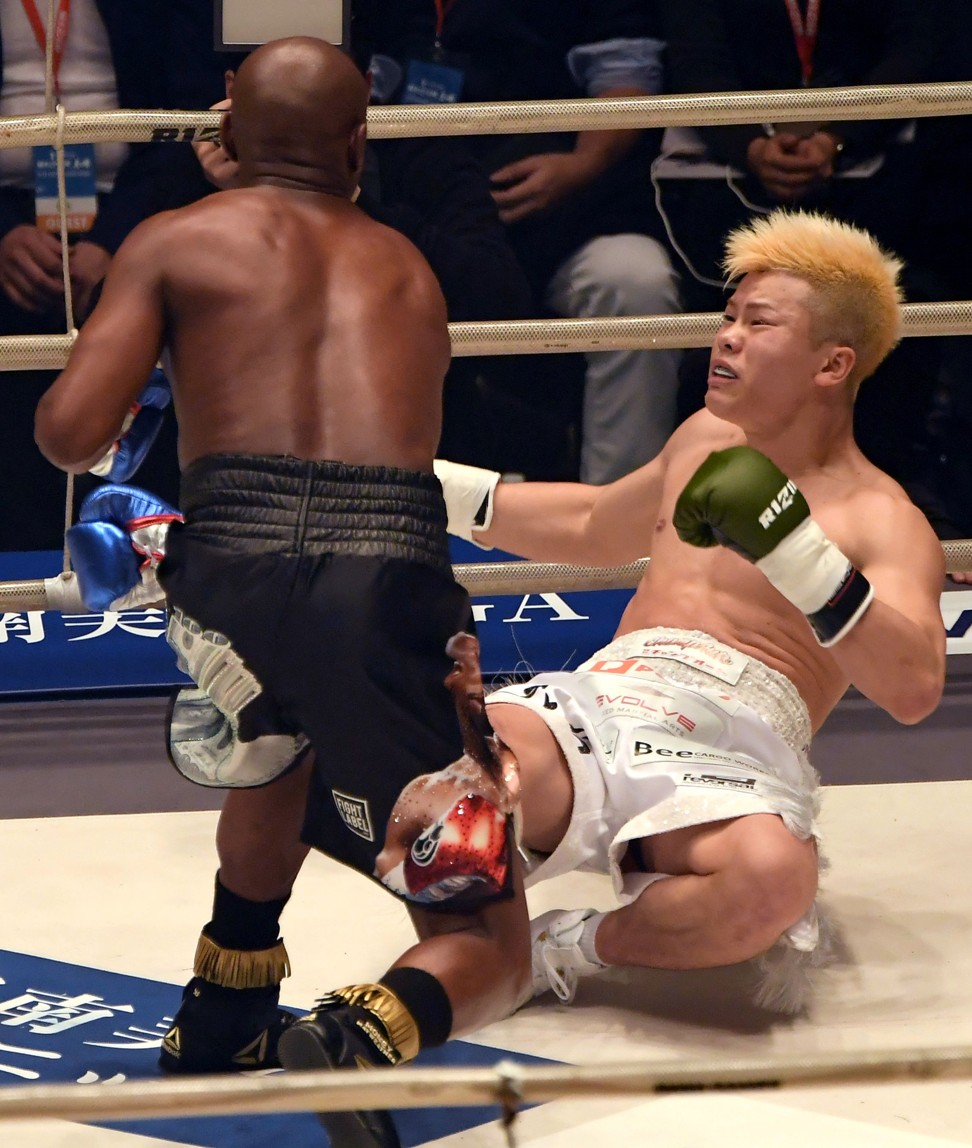 Japanese kickboxer Tenshin Nasukawa is about to hit the canvas after getting pummelled by Mayweather. Photo: AFP
Many Twitter users agreed with Pacquiao, saying the Japan exhibition, scheduled for three rounds, was a mismatch and a "joke".
"I have always said @FloydMayweather is a great fighter. But to think he deserves to be praised for pummelling a fighter who A, had never boxed before and B, is a super bantamweight, is ridiculous. This was a joke that shouldn't have been allowed to occur," wrote Kevin Iole.
Another Twitter user, Turkish UFC flyweight fighter Alptekin Ozkilic, took it further. "Mayweather vs Nasukawa is the biggest scam in sports history. Even bigger than Mayweather vs McGregor #RIZIN."
However, Mayweather had his supporters.
Retired multiple world champion Andre Ward didn't mind Mayweather taking home millions for his quick work and wrote: "Like @Jrockboxing said, legendary fighters have been fighting exhibitions from the beginning. Many went on exhibition tours to stay in shape and to give fans a chance to see them in between fights. Floyd's just doing it a different way."
One Twitter user said Mayweather's dominant display probably ruined Nasukawa's career.
"Hope RIZIN got the ratings they wanted out of this cause they will never be able to sell Nasukawa as their star for the mainstream again," wrote Karaev Fan@hard work, Dedication.
Ah well, Mayweather may have made US$9 million as suggested in his Instagram post – media reports say he earned US$88 million – "Money" probably felt bad for pummelling somebody half his size ... errr ... half his age, giving away his cheap trophy to the sobbing youngster as consolation. Less baggage as he returns home with more money in his pocket.
For the latest news from the South China Morning Post download our mobile app. Copyright 2019.